Le Migneron de Charlevoix
Le Migneron is a medium intensity cheese with a pinkish beige rind and a supple, smooth and unctuous paste. It features a mild fruity and buttery aroma and a nutty, creamy flavour with a long fruity finish. Le Migneron is named in honour of Anne Migneron, the first wife of the Dufour ancestor in New France. It was introduced in 1995.
Cheesemaker
Maison Maurice Dufour
Type of milk
Cow milk
Type of paste
Semi-firm
Type of rind
Lavée
Formats
• Fixed weight 6 x 140 g (#10140)
• Wheel 1 x 2,3 kg (#10230)
Moisture
47 %
M.F.
29 %
2018, Caseus – Finaliste Fromages à croute lavée, mixte ou naturelle – Pâte demi-ferme
2002, Grand Prix des Fromages Canadiens – Fromages à croûte Lavée
2002, Grand Prix des Fromages Canadiens – Grand Champion
2000, Caseus – Prix de l'industrie
2000, Caseus – Fromage Artisanal
1999, Caseus – Prix du Salon des Fromages Fins
Food and wine pairing
Wine
Food and wine pairing
On a picnic, in the fresh air, with a small glass of white Charlevoyou, it's a true country delight.
Technical informations
Origin of milk / Treatment: Whole cow milk
Ripening: Minimum 50 days
Shelf life: 60 to 75 days (wheel only)
Ingredients: Made of whole milk, salt, rennet, bacterial culture, calcium chloride, lysosyme (egg).
Manufacturing: Artisan
Allergen: Milk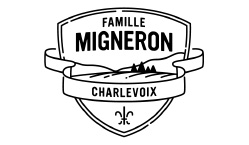 Maison d'Affinage Maurice Dufour
An amateur agronomist, visionary and nature lover, Maurice Dufour patiently and authentically produces his fine cheeses. Being one of the pioneers in the micro-cheese dairy field in Quebec, Maurice creates quality artisanal cheeses that have earned him the reputation he has today. Using mountain-sourced spring water and sheep milk from their flock, the Maurice Dufour Cheese Refinery makes no compromises when it comes to sourcing its raw materials.